Details

Category: Scratch/Custom Builds
Last Updated on Sunday, 13 January 2013 02:05
Written by Marc L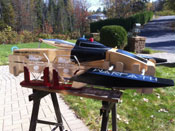 Our new heat racing Warpath rigger KIT...







The Warpath is an original design by Modelgasboats.com with the tub being inspired by the Midwest Missle outrigger.  I've slightly modified this tub and built around it with all new sponsons and rear shoes.

Winner of the 2011 IMPBA Gas Nationals... LSG27 and LSG36 classes!!!





I have finally worked out all the bugs in making this an easy to build kit for builders. The kit is made of quality birch plywood. 1/4" and 1/16" throughout (except for the carbshield which is 1/8").  All plywood parts are CNC cut. Hardwood (birch, maple or oak depending on supply) pieces are in block form and will require cutting/shaping by the builder. Cutting and shaping the sponson core material is made easy by the way we designed the inside of the sponsons and building sequence. It's as simple as cutting from one plywood edge to another and then block sanding. The use of a band saw will make one step of the build simpler and quicker, but if you don't have one, you can still accurately build this boat if you have basic building skills and follow the instructions.

The tub sides feature CNC cut slots in which the bulkheads fit. The sides also have pre-drilled pilot holes for the installation of dowels through the sides into the bulkheads, creating extra-strong joints for a very stiff tub with virtually no flex.

The boom tubes supplied are 6061-T6 aircraft grade aluminum as is the turnfin. The turnfin is CNC cut and pre-drilled to fit the mounting holes in the sponson and requires only to be sharpened.

One of the nice things about this rigger as opposed to so many out there is that it requires no cowl. There are other kits out there, but most require that you purchase a fiberglass cowling, adding to the overall cost of the kit. The Warpath comes with CNC cut pieces to make your own carb shield that will keep water out of the motor.

My goal with the Warpath is to supply a relatively easy to assemble, high quality kit outrigger to RC boaters out there on a budget. If you like the satisfaction of having built it yourself, this will be a nice project for you. You can also rest assured that it will stand the test of time. The construction design makes it a very solidly built rigger.

Build it correctly, set it up right and I assure you, you will be happy with this rigger, be it for going fast at your local pond or for heat racing...  happy boating!

(Tub is 5" outside, 4.5" inside - fits standard hyper-torque/CC/Gizmo style mounts  *** requires shorter (1/2") rubber isolators.)
* a 90degree header must be used on the Warpath.



* this will include wood parts to assemble one rigger with fiberglass cowl, aluminum boom tubes, turn fin, ss nuts and bolts required for boom tubes and turnfin.

** Sponson core material is to be supplied by the builder. Required are four (4) pieces of 2" x 3" x 18" of hard foam, or balsa. I have used Dow pink (can also be blue) with a minimum 20 lb/in2 compression and density of approx 1.6 lb/cuft, but I prefer good quality balsa blocks personally.

Visit our STORE - Click Here


Click here to download instruction / build manual (older version kits)

Click here to download instructions for latest kit