Product Review Article ...by Rudy Hilado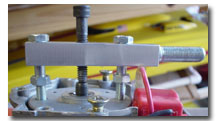 A review of this handy tool to help with engine maintenance...
Scott Adams has produced a nifty tool to for Zenoah G231 and G260 PUM motors. This tool integrates a piston stop and
flywheel removal tool into one unit.
The piston stop tool is used to prevent the piston from reaching top dead center, thus locking the crank in place. This is necessary to attach or remove the pull start drive cog or drive collet. Scott has made a nice enhancement to the piston stop by adding a nylon screw to the tip to prevent any marks or scoring on the piston head.
The flywheel removal tool will works flawlessly to pull the flywheel off the crank. Simply hand tighten the two flywheel bolts about 3/8" into the flywheel, keeping the main body of the tool level. Then tighten down the center bolt with a 3/16" hex wrench until the flywheel pops off.
The machine work on the tool is very clean and precise. This tool is nice and compact and if you ever need to disassemble your motor, I highly recommend one for your field box or work bench!
The integrated piston stop/flywheel removal tool costs $19.00 USD, shipping included to the lower US 48. Additional shipping cost for overseas and international orders. Money Orders and PayPal accepted.
Contact:
Scott Adams

This email address is being protected from spambots. You need JavaScript enabled to view it.