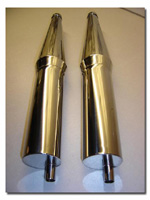 A look at this European stainless steel "quiet pipe" from JeroenTune...
It has been almost a year now since the JeroenTune Silent Pipe has been released. You can read more about it's beginnings in this article .
The JeroenTune pipe is now available in two different configurations, the standard pipe with angled stinger
(the one tested) and another version with a rear-exiting stinger. The pipes are entirely made of stainless steel and the workmanship is excellent. This pipe features an integrated muffler section that cuts down noise considerably while maintaining a good power output.
The pipe I received from JeroenTune was completely assembled with welded header and water-cooled engine flange. The pipes are now mostly sold without header and flange due to the high manufacturing costs of these parts. They can be ordered by special request however. You can use just about any header and flange commonly available on the market today and couple it to your new JeroenTune pipe with a Teflon coupler (or similar). Once you have found the perfect setting for your hull/engine/prop combo, you can weld the header to the pipe, assuming of course you have a steel header. If you want the pipe to slide over the header you will
need a 22mm (0.8661 inch) header. Most headers available on the American market are 0.875 inch(7/8") so keep that in mind. Personally I would recommend ordering the header from JeroenTune if you do not want to use a coupler.


Here are some pictures of the complete pipe and header combo I received from JeroenTune. The quality is excellent and the Oring type water-cooled flange seals well. In all the testing I did, not once did I have to replace an Oring. The pipe is a bit heavier than most pipes I have seen but not enough to be a problem. Its noise muffling qualities easily make up for the extra weight.

Mounting this pipe is a little different than what most of us are used to. The most common method of mounting is by using a big pipe clamp that will fit around the body of the pipe. I have however seen some mounting them by the stinger using standard pipe supports mounted to match the pipe.

The main goal for JeroenTune when creating this pipe was to have a good performing pipe that would be VERY quiet. I would say that the goal was attained. The pipe keeps engine noise down to an 80-85db range in most cases and the performance is quite respectable.




Final Impressions

Great product! I like this pipe and if noise is a concern for you (it should be if you are running in or close to residential areas) then this pipe is one to seriously consider. JeroenTune are producing these pipes as part of a non-profit effort to help boaters worldwide keep their accesses to lakes and ponds. Don't lose your pond because of excessive noise from your R/C boat, get a JeroenTune quiet pipe!

Watch this video of Jereon Pasman's AC Lazers in Action with the JeroenTune Quiet Pipe!



See larger version in Pics/Videos section

Product Details


Pipe as tested: $180.00 USD* (at the time we received it)

Pipe alone: $100.00 USD* (without header and flange)

*for current pricing contact JeroenTune.

Manufacturer Information

JeroenTune
Jeroen Pasman
Website: http://www.jeroentune.nl/
Email: This email address is being protected from spambots. You need JavaScript enabled to view it.

Product Review Article ...