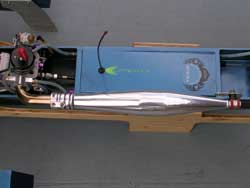 Our review our the Powermaster Aluminum tuned pipe from CC Racing Engines...
Video added!
The CC Powermaster Pipe kit is an awesome kit not only in looks but performance also. The chamber is made of aluminum and comes in a mirror-like polished finish. The cones are seamless and the welds between the sections are virtually impossible to notice. The total length of the chamber is 15.5 inches. The diameter at the center section is 2.25 inches. The stinger is an "internal" design, which means that it extends inside the pipe chamber to a precise point which was chosen for the best possible performance. The extra benefit of the internal stinger design is that it greatly reduces the pipe's noise levels thus requiring no external muffler to be within legal NAMBA and IMPBA limits in most cases. The stinger's internal diameter is 0.500" while its outer diameter is about 0.620 inches.

Those of us who were fans of the traditional 2" aluminum band pipes will love this new Powermaster pipe! It is approximately the same weight and features the same heat dissipating advantages, making it excellent for applications where the pipe is mostly enclosed inside the hull. Extra heat generated inside a hull can be disadvantageous performance wise, as the engine runs more efficiently with cooler air. The aluminum pipes typically radiate less heat than their steel counterparts so they can allow for slightly tighter tolerances between them and other parts of the boat such as the radio box.


The big difference between the Powermaster pipe and the traditional aluminum pipes is its use of a 1 inch diameter header. The pipe comes with your choice of 90/100/105 degree and also 2" and 3" offset 90 degree headers. All headers are made of high quality mandrel bent Stainless Steel tubing that will not rust or deform under normal and even high heat conditions. (discoloration of the header will occur after some use...this is normal and should be expected). The engine end of the header is flared for the flange O-rings.


This tuned pipe system is adjustable in length by means of sliding the chamber onto the header. You can "tune" the pipe to your engine/boat combo by shortening or lengthening the pipe assembly. Sealing of the chamber to the header is handled by a double Oring'ed water-cooled sleeve that is part of the chamber. This is the same type of sleeve typically seen on most aluminum pipes. A VERY handy pipe clamp is supplied with the kit, which makes setting your pipe a fool-proof task. The clamp slides over one of the chamber's water-cooling nipples to hold the chamber in place on the header, preventing it from sliding in our out. It also features an O-ring that prevents rubbing of the chamber against the clamp itself. Simply set the pipe length, tighten the clamp to the header and forget about it!

Last but not least is the "No Leak" water-cooled flange. I can't say enough about this flange. I personally love it and I am certain anyone who tries it will agree. No more worrying about damaged O-rings and water getting inside the pipe! If you have never encountered this problem, consider yourself lucky...it is just a matter of time! Water inside the pipe will kill the performance of a pipe that was tuned for dry operation, and it is quite noticeable. With this new flange, even if you do blow an O-ring, you can keep on running (change them when you can of course) and not worry about water getting inside the pipe, or even worse, blockage of the water passage which can lead to overheating of your engine if it is on the same water-cooling circuit! The water only circulates inside the flat aluminum part of the flange that is bolted to the engine. The second half of the flange is the actual O-ring sealed section that seals the header to the flange.


Quote from Carlo Catalanotto - CC Racing Engines:

Our dyno and on-water testing has shown that this pipe has more power "across the board" than the traditional 2" band aluminum pipes due to the 1" header design. This pipe is a great choice for people who prefer aluminum pipes over steel especially when heat inside your hull is an issue.


Editor's final thoughts...

I personally have been running these pipes in several of my boats for the past year or so and can honestly say that I really like it. I have always been a fan of the aluminum pipes...this one steps it up a notch or two in performance and functionality!

You can see and purchase the Powermaster Pipe Kit on the CC Racing Engines ONLINE STORE by Clicking HERE.

You can see a video of the Powermaster pipe in action in my Cajun Bullet rigger...notice the sound level! CLICK HERE FOR VIDEO.

Happy Boating!



Contact Information:
CC Racing Engines
Carlo Catalanotto
Phone: (504) 305-5005
This email address is being protected from spambots. You need JavaScript enabled to view it.

Product Review Article...