Product Review Article...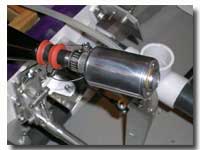 A look at the new "Cheater" Muffler from T-Mod Racing.
T-Mod Racing has become a very familiar name in the R/C Boat community over the last few years. Mike
Tyson, owner of T-Mod Racing first introduced his stinger mufflers back in 2002 and they were an instant hit! You can read our review on the original T-Mod muffler here. T-Mod Racing also make other products including some quality propeller working tools.
I recently contacted Mike for one of his newer "Cheater" mufflers for a boat I am building. I was looking for the good looks of the T-Mod mufflers and the smaller size of the Cheater muffler was very appealing for this project.
Cheaters are built with a 1-1/4" body diameter and smaller screws. Otherwise they are made the same as the standard muffler. They are about 1/2 oz lighter and according to some dynamometer tests, allow some engines to make about 1/3 hp more when used on the 2" aluminum pipes or the new Quickdraw steel pipes. The Cheater is about 1 db louder than the standard muffler.
Both the standard and Cheater versions are available in natural aluminum or polished to a mirror like finish. T-Mod mufflers are built of grade 6061 T-6 aluminum seamless tube and plate, and all fasteners used are rust proof; most of which are stainless steel. Pictured below, mounted to a Needforspeed Hobbies steel 2" band pipe.
Each T-Mod muffler is supplied with a plastic coated stainless steel safety wire and crimp connector to secure it to your pipe mount. Should the clamp holding the muffler to the pipe ever become loose, the safety wire will prevent it from heading to the bottom of your favourite lake or pond. Try to keep the safety wire as short as possible so as to ensure that the muffler doesn't hit the propeller if it does come loose from the tuned pipe.
Another great product from T-Mod Racing!
For more information on the T-Mod mufflers or other T-Mod Racing products, contact:
T-Mod Racing
Mike Tyson
Richmond, VA
Tel: 804-360-5432
Email: This email address is being protected from spambots. You need JavaScript enabled to view it.