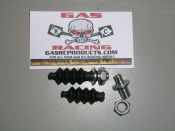 New products from Gas RC Products...
Here is a look at a few new products out by
Gas RC Products
. For more info on these products and up-to-date pricing please visit their
website
.
---
Billet Radiobox Seal Mounts:
no more need for glue! Simply drill the box, insert the mounts and tighten them securely in place with the included nut. The outside of the seal mount has an Oring to create a water-proof seal against the radio box. Then simply slide the bellows pushrod seal over the mount's barbed niple and you're done! Easy to install and more importantly, easy to replace worne out rubber seals!
Billet IV Bag Fitting: this is an aluminum hi-flow fitting to adapt your fuel line to your IV bag setup. It has a 1/8" inside bore diameter and features a barbed end for the gas line. The smooth end goes inside the bag and the section with the grooves is where you ziptie the bag to the fitting. Notice the smooth finish that will not damage the IV bag.